Party at George's!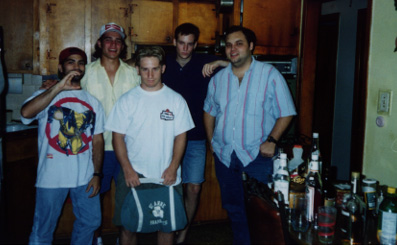 I haven't seen a lot of these guys in ages. Left to right:
Ray Massa - he's in LA going to USC film school, he'll graduate if he can stay in one place for a few months;
Francisco Franco - last I heard he got kicked out from his now ex-girlfriend's in San Diego. He may be in Oberlin, OH now finishing his degree;
Robert Atha (me)- I'm in Brighton, MA working;
Jeff Smythe - he's in Austin, TX, I need to give him a call;
and Ronnie Sharon - living in College Station, TX, finishing up school.